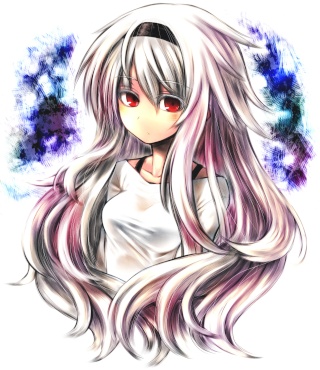 PSICOPATIA GOLDVEIN: User Guide and Manual

CONGRATULATIONS! You have just purchased your very own PSICOPATIA GOLDVEIN unit. This manual was written in order to ensure that you, the owner, can unlock your unit's full potential as a friend, and/or partner.
Technical Specifications:
Name: Psicopatia Goldvein. Will respond to "Psi", "dear", or other terms of endearment. Her reaction to said terms varies depending on the person/unit using them.
Age: 1246
Place of Manufacture: Hell
Height: 4'6"
Weight: 90 lbs
Size: Fiery
Your PSICOPATIA GOLDVEIN unit comes with the following:
One (1) blue beanie
One (1) casual green t-shirt
One (1) bag of chocolate
One (1) long black ribbon
One (1) pair of ripped jeans
Ten (10) boxes of Pocky
Programming
Your PSICOPATIA GOLDVEIN unit is equipped with the following traits:
Lure/Bait: For those policemen/women out there who are looking for pedophiles, this unit is for you! Simply send the unit into any suspected location and watch the sexual offenders flock to the spot! (Note: You may need to apprehend the suspects before they reach the unit due to the risk of murder.)
Pianist: Ever think that the income you get from your job is too small? Give the PSICOPATIA GOLDVEIN unit a piano and you'll be rolling in cash before you know it! The unit specializes in slow, emotional pieces. If you would rather have a unit specializing in faster pieces, please contact Flying Mint Bunny Co. for information on purchasing a DANO KIRKLAND unit.
Removal of your PSICOPATIA GOLDVEIN Unit from Packaging
Awakening your PSICOPATIA GOLDVEIN unit is generally quite simple, but if she was jostled during shipment it could be harder. We have provided this list of failsafe ways to wake your unit, jostled or not, which will not result in you missing any body parts at the end. Your unit tends to make a lot more assumptions than she should, which might result in some terrifying moments while getting her up, but don't worry - she won't really hurt you, unless you're a DORIAN BLACKHEART unit.
1. Simply knock on the side of the box and step back. The unit will wake up if they were still asleep and ask to be let out of the box. Do so, and the unit will climb out and start investigating the household. It's best to reprogram the unit now before she finds something distasteful and leaves.
2. Play a fast paced song played on the piano as loudly as possible. Your unit will ask to be let out of the box. Do so, and the unit will climb out, disappointed by the fact that a DANO KIRKLAND unit is not in the area. Despite this, she will allow you to reprogram her.
3. If you are certain that shipping went perfectly, you can just open the box and hope she doesn't reach out and try to kill you for waking her up incorrectly.
Reprogramming
After successfully getting your PSICOPATIA GOLDVEIN out of her box, you can decide to reprogram her to any of the following modes.
Curious
(default)
Friendly
(default)
Irritable

Snarky

Terrified

Murderous
(locked)
The PSICOPATIA GOLDVEIN unit comes in her
Curious
mode, and
Friendly
comes as an addition to her normal cheery personality. If she accidentally breaks something in her adventures around the house, she will proceed to apologize, and will attempt to clean it up. You can either allow her to do so or clean it up yourself, both having different effects.
The
Irritable
mode is easily activated by bringing a DORIAN BLACKHEART unit into the area. The unit will proceed to give small insults to the unit and others around her, though it's advised not to let the DORIAN BLACKHEART unit get too close, in fear of unlocking the
Murderous
mode.
The
Snarky
mode can be utilized by flirting with PSICOPATIA GOLDVEIN. She will proceed to laugh and promptly injure you somehow before giving a remark and walking off. This mode can only be deactivated by bringing a DANO KIRKLAND, RENIKA VECTORA, or DANTE BLACKHEART unit into the area and allowing them to coax her out of her
Snarky
mode. After this, she will revert back to her
Friendly
mode.
The
Terrified
mode is a very fun one to unlock, presuming you like hardcore sex and/or BDSM. Before attempting to unlock this, we recommend setting up cameras all over your house. To get this mode, set a DORIAN BLACKHEART or DANTE BLACKHEART unit into their respective
Rape-Maniac
or
Demonic
modes; for easier access, leave PSICOPATIA GOLDVEIN in Friendly, but for more delicious footage, put her in Snarky or Irritable mode. After this, just lock your unit and either of the units mentioned above in your house for a few days. When you come back, PSICOPATIA GOLDVEIN will be trembling and promising to do anything for whichever unit you had her with. To get her out of this, leave her with a normal DANTE BLACKHEART unit for two to three weeks, or get her a private rape therapist.
The locked mode, Murderous, is, well... Locked for a reason. This mode can be unlocked leaving her with a DORIAN BLACKHEART or CONAN GOLDVEIN unit in their respective
Seductive
and
"Loving"
modes while she is in her Irritable mode. Depending on which you use, PSICOPATIA GOLDVEIN will have a higher or lower tolerence. When her tolerence runs out, the unit will proceed to chuckle maliciously before lashing out at the other unit, most likely harming them. Flying Mint Bunny Co. advises you to stay OUT of the house for up to three days and call 911.
Relationships with Other Units:
DANTE BLACKHEART: These two have a bit of history between each other, though there isn't too much intense emotion. The PSICOPATIA GOLDVEIN unit looks up to the DANTE BLACKHEART unit as a guardian while he thinks more of her. The unit will usually cling to him for protection from any DORIAN BLACKHEART or CONAN GOLDVEIN units. Please note that if your unit is in a relationship with a DANO KIRKLAND unit, the DANTE BLACKHEART unit has a small chance of using his
Demonic
mode to "Win her back."
DANO KIRKLAND: Your PSICOPATIA GOLDVEIN has a relationship with this unit similar to a ARTHUR KIRKLAND and a FRANCIS BONNEFOY's. They are prone to fights, yet the two may be able to bond over things such as piano or alcohol, due to both of their very high tolerences. If this does happen, there is a definite chance that the two may hook up. At this point, if you are the kind of person who enjoys loliconism, we advise you to set up cameras around your home and leave the two alone for a few days.
RENIKA VECTORA: PSICOPATIA GOLDVEIN and RENIKA VECTORA get along great, due to their history. The two think of each other as sisters, which makes a relationship quite impossible. However, in her
Terrified
mode, the PSICOPATIA GOLDVEIN unit will undoubtably allow a RENIKA VECTORA unit in her locked
Horny
mode to dominate her.
DORIAN BLACKHEART: If you've noticed how your unit generally acts toward men (or women, mind you) who are prone to flirting, you'll know that PSICOPATIA GOLDVEIN hates DORIAN BLACKHEART just as much as she hates others like him. DORIAN BLACKHEART, however, is an extremely seductive, extremely devious unit who just so happens to be slightly insane; PSICOPATIA GOLDVEIN likes danger, and with that said it's (very unlikely, yet) possible that these two units will get together.
CONAN GOLDVEIN: Your unit is the blood-related family member of CONAN GOLDVEIN, though PSICOPATIA GOLDVEIN hates CONAN GOLDVEIN for many reasons. There is no real romance (on your unit's side) to be had here, but you can guarantee torture, or "love", as CONAN GOLDVEIN calls it.
Cleaning
Your PSICOPATIA GOLDVEIN unit is perfectly capable of cleaning herself, and doesn't like bathing with others. This is partly due to her various scars.
Feeding
PSICOPATIA GOLDVEIN cannot cook her own food, but we doubt that you would find a way to satisfy her. It is likely that she will reject your food and try to cook her own, unless you supply a DANTE BLACKHEART or RENIKA VECTORA unit is there to cook for her. Overall, it's best to keep her out of the kitchen.
Rest
This unit has a normal routine, and tends to be in bed before 11 every night. She is very much like an old man in this manner, but she differs from them in the fact that she will, guaranteed, get up and kill you if you wake her up before 9AM.
Frequently Asked Questions
Q: My PSICOPATIA GOLDVEIN is emotionally blackmailing me into eating her food! What do I do? I like being alive!
A: Well, we warned you about keeping her out of the kitchen... but you can stop this by simply sacrificing a RENIKA VECTORA unit to your PSICOPATIA GOLDVEIN. We are not responsible for any ailments that befall the RENIKA VECTORA unit you use.
Q: My unit ran out of Pocky and now she's sulking and refusing to do anything!
A: Well buy some more!
Q: My unit lost her beanie and went on a rampage!
A: Bring a RENIKA VECTORA unit into the area to help her search; she usually leaves it in the same place every time.
Troubleshooting
Problem: After your unit didn't respond to any of the ways we provided to wake him, you opened the box and found instead of an adorable teenage girl, an even more adorable chibi girl.
Solution: Whoops! We've sent you a Chibi!Psi on accident! This unit is extremely timid, refuses to leave her box, and will hide under a chair or bed if she is forced out of the box. She will cling to any RENIKA VECTORA or DANTE BLACKHEART units in the area, though if a regular PSICOPATIA GOLDVEIN unit in a relationship with a DANO KIRKLAND unit is nearby, the Chibi!Psi unit will manipulate a DANTE BLACKHEART unit into trying to "Win her back" as mentioned before for her own amusement.
End Notes
If you take correct care of your unit, PSICOPATIA GOLDVEIN will be a worthy and loyal companion. Be warned before you do anything, as your actions might suddenly anger her, and we guarantee that if you read the manual, your time with PSICOPATIA GOLDVEIN will be very enjoyable. Good luck!